Up to 2 acres of mowing per charge, zero operating emissions, and no engine noise – there's dozens of reasons to love the new John Deere Z370R Electric Zero-Turn Mower. It's the newest member of the Z300 Series lineup that's known for being efficient, comfortable, and easy-to-use. And now, it's green in more ways than one!
The 42-inch (107-cm) Accel Deep™ Mower Deck has a deep draw and flat top design for an exceptional quality of cut at fast ground speeds – all to help ensure the Z370R Electric mows well fast. Plus, the deck is built for toughness. Just like our gas mowers.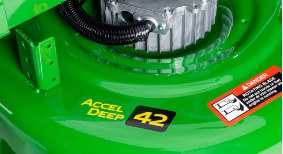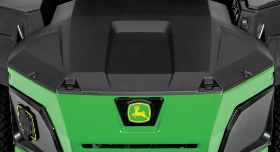 Unlike other electric zero-turn mowers, the sealed 3.2 kWh lithium-ion battery offers protection from the elements allowing the unit to run under damp conditions. You can even wash the mower deck, and store outside with confidence. Plus, the sealed battery is protected from dust and debris to help keep you mowing. No unsealed battery can say that.
The Z370R Electric Mower carries a 5-year/200-hour battery warranty, supported by a dealer network that has your back if things go wrong. Feel like you want more? No problem. You can purchase an extended 10-year PowerGard™ warranty through your local Van Wall location. That's a lot of peace of mind.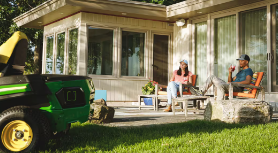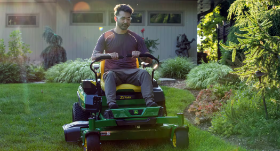 GOOD FOR YOU AND GOOD FOR ALL
The Z370R Electric offers zero operating emissions to help make the world a better place and no engine noise. That's good for you and good for all.
Just plug in when you are done mowing and walk away. The Smart Charge Technology prevents over-charging and maintains battery life. The Z370R Electric eliminates the need for engine oil changes, spark plugs, air filters, mower belts, and greasing as well.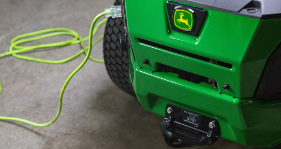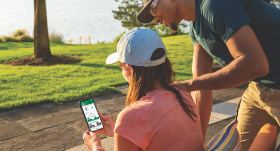 The Z370R Electric with Bluetooth connectivity provides access to the operator's manual for mower maintenance help, web-based lawn maintenance video tips and articles, as well as GPS Mowing Pattern Tracking for info that can help you mow better as an operator. And you can do it all right from your phone with the MowerPlus™ app.
MOW UP TO 2 ACRES PER CHARGE
The sealed 3.2 kWh (3.56 kWh maximum) lithium-ion battery provides up to 2 acres of lawn mowing action per charge and quickly recharges – all with a grounded extension cord. Mowing distance depends on mowing conditions. Actual mowing acreage may vary.